We Deliver All Over The World.
Short Mixe 1000 Roid Plus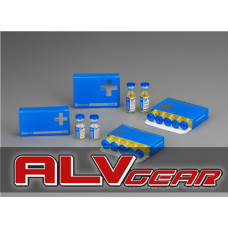 Brand:
Roid Plus
Product Code:
RPLNG700
Availability:
In Stock
Price: $42.00
Ex Tax: $42.00
Manufacturer: Roid Plus
Substance: Mix of 3 hormones
Pack: 5 ml vial (200 mg/ml)
Anabolic substances are used for effective and rapid muscle gain and when more than one supplement is stacked with appropriate proportion, it can produce tremendously effective results.Long Mix is an equivalently effective substance that uses the perfect blend of Trenbolone Enanthate, Drostanolone Enanthate and Testosterone Enanthate. These anabolic supplements are different in nature and when stacked carefully in the right measurement, it can be helpful for both cutting and building purposes.While the enanthate ester of Trenbolone and Testosterone is primly used for bulking purposes, Drostanolone enanthate is equally effective for cutting cycles. This mix actually helps the users to achieve a muscular and toned physique that is strived for by all. The effectiveness of this supplement takes place in a while and it stays for long. The right dosage of it is able to deliver the best results however, it has a specific cycle of 6 weeks, users must follow the dosage accordingly.
Be careful!
Using anabolic steroids means you will take lots of risks. These are side effects and health problems. Alvgear does not accept any responsibilty for health problems and side effects you will face. If you %100 aggree to use anabolic steroids Alvgear suggest find right dosage and period of time for you and you must be careful during cycle. Any problem you will face you must care it and you must do best for your health that is all. Also Alvgear never sells steroids to under 20 years old persons.
Write a review
Your Name:
Your Review:
Note: HTML is not translated!
Rating:
Bad
Good
Enter the code in the box below:

Did you know?
About Anabolic Steroids
Anabolic steroids increase protein syntheses that stimulate your tissues improvement.