We Deliver All Over The World.
Masteron 500 Roid Plus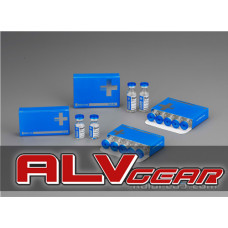 Brand:
Roid Plus
Product Code:
RPMST500
Availability:
In Stock
Price: $35.00
Ex Tax: $35.00
Manufacturer: Roid Plus
Substance: Drostanolone Propionate
Pack: 5 ml amp (100 mg/ml)
Masteron is a popular anabolic/androgenic injectable steroid. It was popular in 70s but then it became very expensive and hard to find. 50mg/ml ampules is the most common form of Masteron now. It's used for breast cancer treatment before moved to bodybuilding area. Also in some laboratories, it's used for weight gain process.
Many athletes use it in their daily cycles but because injectable form is hard to find, it can be used in day after day schedule. Half-life of Masteron is 5 days. There's also a new version of Masteron which is applying two times in a week only for enough level. Many athletes use it for brief cycles and it's not appropriate for long cycles
.
It has fewer side effects than many other steroids. Because of its active ingredient Dromostanolone propionate, it can cause no conversion of 5-AR enzyme and it can be dangerous for liver issues. It also causes anti-estrogenic activity. Many athletes used Masteron for recovering estrogen levels but it didn't work. So anti-aromatase substances must be used with Masterone. Many athletes prefer anastrozole or letrozole with Masteron.
A starter of Masteron must use maximum 500-700 mg per week. It can be used with Dianabol in cycle. Using only Masteron in cycles can be dangerous because of decreasing estradiol levels. Most common dose in cycles is 10 mg/day Dianabol and 700 IU/week HCG total. Optimum effect can be seen at least in 4 weeks and cutting cycle strong can be dangerous. For starters, 400 mg is ideal but they must control themselves for estradiol levels.
Write a review
Your Name:
Your Review:
Note: HTML is not translated!
Rating:
Bad
Good
Enter the code in the box below: