We Deliver All Over The World.
Melanotan 2 Gen-Shi Labs.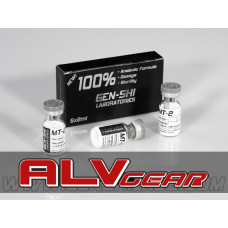 Price: $45.00
Ex Tax: $45.00
MT-2 *Melanotan* 10 mg vial GENSHI LABS. OSAKA JAPAN
Expiration date is printed wrong; it's not 2020. It's recomended to use before 07/2018
A tanned skin is the most preferred one especially in the summer time and many people do seaside in order to have a darken skin, but if they directly expose to sun light, then it may give harm to their body. There are many products for preventing this and Melanotan II is one of the most preferred one among them. Melanotan II is a cosmetic product that is useful in providing a tanned skin to its users. It is mostly preferred by people who have fair skins and who want to have darken skin. This product prevents the sun from burning the skin and make it red, instead, it darken the tone of the skin. This product does not be used in the treatment of any illness because it is not wholly accepted in the drug sector. There are many debates about this product for this reason, it should not be used randomly by the people. Because it can cause many side effects when it is used such as tiredness, nausea, decrease in appetite, flushing in face, and sudden erections in men. All these side effects are seen among almost all of the users especially after the first and second injections. Since this drug is nor wholly confirmed, people should take care of the dosage and usage of this product. The dosage of it is determined according to the weight of the people and it should not be taken more than one injection in a day. In addition, it is recommended to be taken before the bed time
Write a review
Your Name:
Your Review:
Note: HTML is not translated!
Rating:
Bad
Good
Enter the code in the box below: