We Deliver All Over The World.
Testosterone Cypionate 1250 Gen-Shi Labs.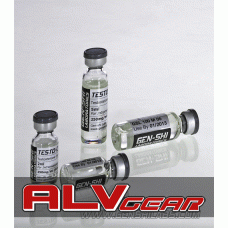 Brand:
Gen-Shi Labs.
Product Code:
TCGS1250
Availability:
In Stock
Price: $26.00
Ex Tax: $26.00
Manufacturer: Gen-Shi Labs.
Substance: Testosterone Cypionate
Pack: 5 ml amp (250 mg/ml)
Testosterone cypionate is a popular testosterone type but it's now very hard to find in the market. It's main feature is long acting ester. It was very common in U.S before anabolic schedule process but today it's not so common. Many experts believe that Testosterone cypionate is stronger than enanthate but there's still no scientific evidence about it. U.S government is officially offering testosterone cypionate in only hormone replacement therapy today.
Most important effect of Testosterone cypionate is increasing lean tissue. When lean tissue level is increased it triggers metabolic rate so body burns body-fat faster to gain more muscles.
Main side effect of Testosterone Cypionate is come surface when aromatase process is advance and testosterone started to be converted to estrogen by body. It has many end effects like Gynecomastia, cholesterol issues and water retention. These side effects can be reduced when Testosterone Cypionate is used regularly but it's hard to stop testicular atrophy side effect. Because Testosterone Cypionate triggers synthetic testosterone production, body stops to produce is naturally so because the testicles haven't produced it, it starts to shrink and stops production completely.
Many athletes use Testosterone Cypionate as 200mg every day. 7-10 days cycles are very common. 400mg-500mg is enough for many beginners but this dose will not be enough after 4 or 5 weeks. Bodybuilders can increase the dose to 1,000mg on a week but it's not safe according to many experts. Most important thing is controlling the water retention on every dose and every week. Using Testosterone Cypionate with a good aromatase inhibitor is a good way of controlling water retention.
Write a review
Your Name:
Your Review:
Note: HTML is not translated!
Rating:
Bad
Good
Enter the code in the box below: