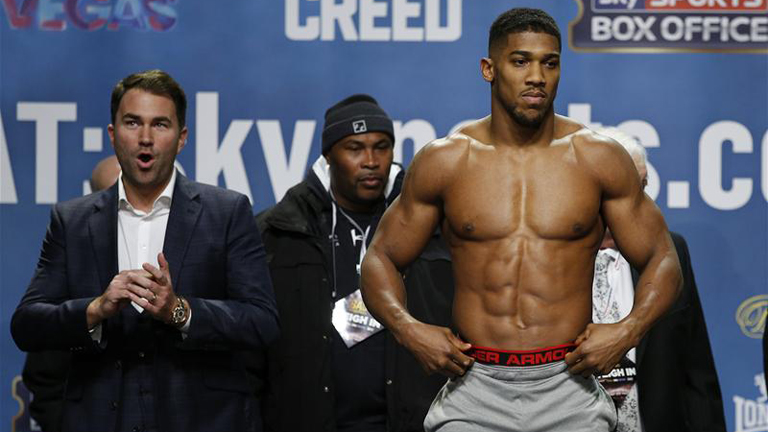 We could start with heavyweight division.There are couples of fights on this weekend.First fight i want to talk about is Andy Ruiz Jr vs Joseph Parker.These are two great talents for boxing.Andy Ruiz has been trained by well known boxing coach Freddie Roach and known with his fast hands.Joseph Parker is a strong boxer.Both fighters are undefeated and this fight will be for vacant WBO heavyweight title.Andy Ruiz Jr has speed advantage over Parker but we could say that Parker is a stronger guy and seems that he could punch harder.Also Parker fought bigger names on his career for example;Carlos Takam,Alexander Dimitrenko.It is different for Andy Ruiz Jr most popular guy he fought is Frankling Lawrence. At this point we give experience advantage to Parker.Joseph Parker seems to stick game plan but Andr Ruiz Jr seems more free fighter on the ring.This makes this fight interesting too.Fight will be on New Zealanda because of that Andy Ruiz Jr wins round clearly.
Another important fight for heavyweight division is Anthony Joshua vs Eric Mollina fight.To be honest after i heard George Foreman's comments about Anthony Joshua, i believe that he could be no.1 guy in the World also one of the best heavyweight of all time.He has everything to make it.Fantastic amateur career,great athletic abilities and more.He evokes me Wladimir Klistchko.His body type ,olmypic level amateur career there are lots of common points between them.Also they are former sparring partners.We hope to see Klistchko vs Joshua this week but it is not easy fight to make happen.After all it is cancelled and Wladimir Klistchko would not fight because of injury and organizators looked for opponent and find avarege guy in a good position right now.You could not say that Eric has a great puncing power or very technical fighter but if you saw Deontay Wilder fight you could say that this guy has a heart.In my opinion that make this fight interesting.Eric Molina claimed that the only way he could beat Joshua is knock him out.We called this lucky punck.Could he catch Joshua we will see it.
Third heavyweight fight we will discuss today is Dillion Whyte vs Dereck Chisora.Two well known english fighter will meet this week.After intense press conference people remember this fight because right now boxing fans focus other interesting fights.Dillion Whyte is 28 a years old english talent,he did pretty well against Anthony Joshua.After that tko loss he won three fight and got vacan British heavyweight title Dereck Chisora is another well known english fighter.His aggressiveness makes him popular.Last press conference he throw tablet to Whyte.After his decision loss against Tyson Fury he got victories against easy opponents.Afte 4 fight winning streak he challenged Kubrat Puluev for vacant EBU heavyweight title.He lost with spilit decision.For this fight i think Dillion Whyte will find a way to get victory over Dereck Chisora.I don't underestimate Chisora for sure he has lots of battles on his career,tough guy and this is important fight for him but i pick Dillion for this fight.
After discussing these heavyweight matches let's talk about one of the best pound for pound boxer of the world Terrence Crawford.Couple weeks ago Floyd Mayweather Jr told that Terrence Crawford has everything but his management not look that good.I think Floyd is right.When you look Terrence's fights you see that he could switch hit to orthodox to soutpaw,very techical,has punching power and speed.These are tools that make this guy great.Right now he is the number one süper lightweight of the world and he will fight against John Molina Jr.He is not same level with Crawford.Molina is expeirenced fighter,fought for titles and against big names before but at this point i think he could not beat Terrence Crafword.Before big fights like Manny Pacquiao or Vasyl Lomachenko Crafword must look good against Molina to excite boxing fans and promoters.I think he will clearly dominate this fight and will get decision Victory.
Last fight i will discuss on this article is Julio Chavez Jr's fight.He is one of the favorite fighter of mine and he will fight on hometown Mexico this week.There are lots of comments we heard from his corner last couple of weeks.It seems that managers prepared him against big fights like Genady Golovkin.Last comment comes from his trainer and he said that if he would well prepared he could beat Gennady Golovkin.I dont aggree with him but it will be interesting fight for sure.Julio Chavez Jr will fight against young german fighter Dominik Britsch.There is no big fights on Dominik's career it seems not he is avarage european fighter and before big fights promoters want to give Julio Chavez jr fight to keep him active and make hometown funs happy.