We Deliver All Over The World.
Anapolon (Anadrol)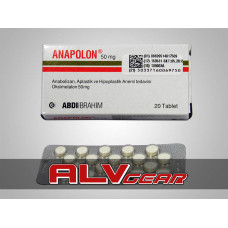 Brand:
Abdi Ibrahim
Product Code:
ANP20
Availability:
In Stock
Price: $45.00
Ex Tax: $45.00
Manufacturer: Abdi Ibrahim
Substance: Oxymetholone
Pack: 20 tabs. 50 mg
What is Oxymethelone(Anapolon) ?
--Anapolon is a anabolic steroid that help you for increasing muscle mass.Anapolon makes it with increasing red blood cells.You will experience appetite increasing.On the other hand over dosage effects your appeite this is another truth about Anapolon.You must find best dosage for you.
--Another great benefits of Anapolon is increasing strength.Anapolon increases your strength dramaticlally.
--Your body reacts Anapolon very fast.This make Anapolon fast and efficient anabolic steroids.Also common side effect Anapolon users faced is liver problems.Anapolon could change enzymes of liver.Conscious usage with right dosages is the key to protect your liver.Also we know that liver has speciality about renaissence.
--Anadrol is a great bulking product but lots of Professional athletes use it for prepare themselves for competition mostly last period of their training camp.
DOSAGES
--General usage: 50 mg ,some professional use 100 mg daily.
COMBINATION
--You could combine it with one more efficient androgenic steroid + you must get 1 tab arimidex every 3-4 days.Also you must take products for liver protection like milk thistle.
Be careful!
Using anabolic steroids means you will take lots of risks. These are side effects and health problems. Alvgear does not accept any responsibilty for health problems and side effects you will face. If you %100 aggree to use anabolic steroids Alvgear suggest find right dosage and period of time for you and you must be careful during cycle. Any problem you will face you must care it and you must do best for your health that is all. Also Alvgear never sells steroids to under 20 years old persons.
Write a review
Your Name:
Your Review:
Note: HTML is not translated!
Rating:
Bad
Good
Enter the code in the box below:

Did you know?
Suggestion for Cycle
If you are in a steroid cycle you have to drink 3 liters water daily. and we suggest to use milk thistle for your liver health.