We Deliver All Over The World.
Glucophage (Metmorfin)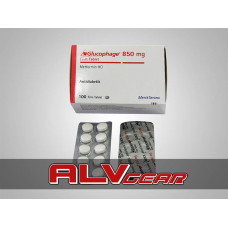 Brand:
Merck
Product Code:
GLCP
Availability:
In Stock
Price: $24.00
Ex Tax: $24.00
Manufacturer: MERCK
Substance: Metformin
Pack: 100 tabs (850 mg/tab)
Metformin is a popular antidiabetic drug. It's one of the oldest drugs in biguanide class. Many doctors are prescribing drug for first line treatment. It's very strong for treatment of overweight and obese people facing type 2 diabetes. In the second half of 2000s, many countries limited its usage on gestational diabetes. It mainly blocks glucose production in liver. It has also an important drug to prevent cardiovascular complications for diabetic people. It also reduces triglyceride levels and LDL cholesterol in body.
There's no known mortal side effect of Metformin. Most common side effect is gastrointestinal upset. Also some patients reported hypoglycemia after using Metformin. Also many people makes overdose because of being not patient to lose weight and they face Lactic acidosis. It can also cause temporary side effects like diarrhea, increased flatulence and nausea.
Bodybuilders and athletes commonly add Metformin to their cycles. There are many fixed-dose combinations using in the bodybuilding world and most common is rosiglitazone and Metformin. Also in USA, it's possible to see combinations like metformin, pioglitazone, glipizide and glibenclamide. It's a secure drug for bodybuilders and athletes because it's approved in Canada in 1972 and using for obese treatment till this year.
There are many types of Metformin today. It's possible to find Metformin IR which means immediate release in dose of 500 mg, 850 mg and 100 mg. In 2004, company also released Metformin slow release and Metformin extended release. It's possible to find them in 500 mg and 750mg doses. Main aim to release these types is reducing gastrointestinal side effects.
Write a review
Your Name:
Your Review:
Note: HTML is not translated!
Rating:
Bad
Good
Enter the code in the box below: