We Deliver All Over The World.
Viagrix (Viagra) Opiox Pharma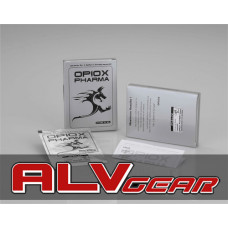 Brand:
Opiox Pharma
Product Code:
OPVIA
Availability:
Out Of Stock
Price: $9.00
Ex Tax: $9.00
Manufacturer: Opiox Pharma
Substance: Sildenafil
Pack: 4 Tabs.(1 Tab. x 50 mg)
Viagra is a very popular drug including Sildenafil citrate. It's using on treatment of erectile dysfunction and pulmonary arterial hypertension. It's produced and released by Pfizer. Main duty of Viagra is inhibiting cGMP-specific phosphodiesterase type 5 so it can control and regulate blood flow of penis. There are 25, 50 and 100 mg pills of Viagra. According to announcement from Pfizer, it must be used one only per day. It can show effect from 30 minutes to 4 hours.
Most common side effects of Viagra are headache, nasal congestion and flushing. Also some people reported blurred vision and seeing everything tinted blue. Also it can cause strong side effects like priapism, myocardial infarction and stroke. FDA announced potential risk of sudden hearing loss for all PDE5 inhibitors.
Interaction of Viagra is very low and most common interaction is with protease inhibitors. People facing interaction problems must use 25 mg dose in 48 hour periods. There's no known beneficial effect of Viagra on sportsmen but many of them use Viagra before events. They believe it will open their blood vessels and enrich the performance but there's no scientific evidence for it.
Also bodybuilders and athletes prefer Viagra because it increases nitric oxide levels in blood. By relaxed relax blood vessels, bodybuilders can use many steroids with less side effects.
It's now many countries allow buying Viagra from internet but some countries still need prescription. According to experiences, best way to maximize the effect of Viagra is taking it 30 minutes before sexual intercourse to empty stomach. Many bodybuilders find Viagra expensive and using similar drugs still.
Write a review
Your Name:
Your Review:
Note: HTML is not translated!
Rating:
Bad
Good
Enter the code in the box below: