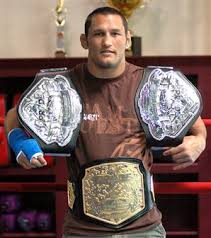 TRT BANN IN MMA
There s a lot of argues about TRT usage in combat sports.Nowadays it s banned from mma.That makes a lot of sense.Mma community knows who are the fans of TRT like Dan Henderson,Vitor Belfort,Chael Sonnen.
If you are middle of 30's you can face some problems about your hormones because your balls not work like as they did.If you have long career like Dan Henderson you must get something extra to make your testosterone levels higher to compete at this level.Vitor is another great example for TRT usage.Nowadays he s mentally and physically stronger and beat younger guys in UFC one of the contenders in his division.
Another TRT fan is Dan Henderson.The old lion make a lot of success in his recent fights.He beat Shogun Rua,Fedor,Babalu and Feijao in his 40's.This success is not coincidence.In my opinion biggest part of this success is wrestling background of Hendo.Most of the wrestlers can fight until their 40's.Randy Couture and Mark Coleman is a great example of this also Matt Hughes could fight until his late 30's. Knowing your body very well is another important thing for compete at your late 30's or 40's.Henderson does this very well ,he use TRT and he s fan of it.If you complete all of these you can understand success of Henderson .
TRT banned from mma.There s a lot of speculations before this decision.Some mma fighters believe that it hurts mma others don't.Last statement of Chael Sonnen explain this situtation better.Chael said that without testosterone taking it s like a die for him.He used steroids before after his first title fight with Anderson Silva, he s banned from Athletic Commission but he allways said same things he s a true fan of TRT .
The another truth about TRT usage is it's depends on athlete.If you have a lot of fights during your career most likely you ll face low testosterone level problem in your 30's.TRT is help you at this point.Also injuries,your bodies reaction are important as TRT.You must think that together.